As the temperature soared this summer, Popiplay has matched the heat by launching an exhilarating lineup of online slot games that has the gaming community buzzing with excitement. The seven new additions include Unipopcorn, Keys to The Sea, Tik Tak Toad, Store Wars, Moneyfest, Fish & Cash, and Wild Wild Gold. Each game is meticulously designed, offering players a unique and immersive gaming experience.
Unipopcorn, a delightful and colorful slot, immerses players in a world of unicorns where sweets are not just a tasty treat but also a source of fabulous prizes. With its stunning visuals and exciting gameplay, Unipopcorn is a feast for both the eyes and the aspiring winner with up to 12,000x the bet as max win.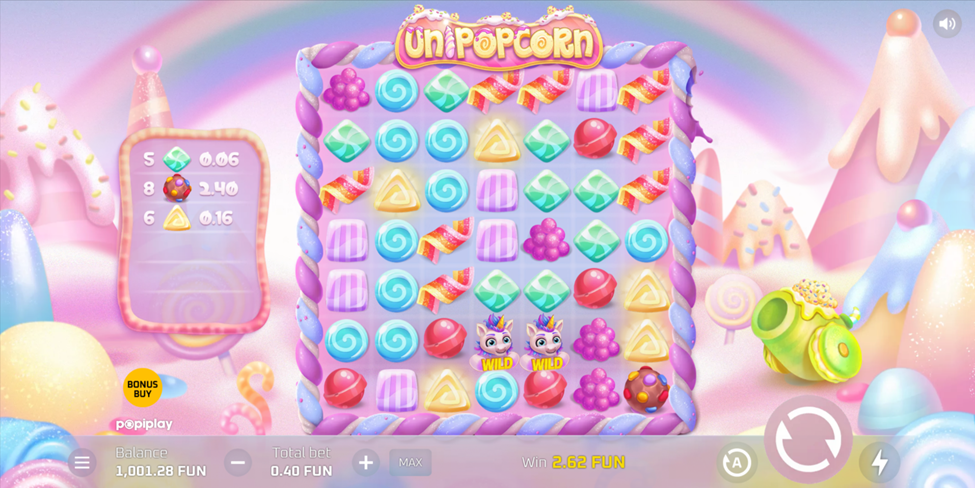 In the mesmerizing depths of Keys to The Sea, players are invited to unlock the mysteries that lie beneath the waves. This underwater adventure is teeming with enchanting sea creatures, hidden treasures, and opportunities to win up to 10,200x, making every spin a deep dive into a world of excitement.
Tik Tak Toad transports gamers to a whimsical world, where Mr. Toad is in the race against time. The classic 3×3 grid with 5 paylines goes through an upgrade in the Respin Bonus round expanding to 27 paylines, introducing increasing multipliers, and huge potential for significant wins of up to 24,360x the bet. With enchanting graphics and gameplay of Tik Tak Toad slot, players will find themselves amidst a jackpot paradise.
In the world where the hunt for long forgotten treasures never ends, Store Wars gives players a chance to discover hidden gems and win up to 3,520x the bet. Free Spins bonus round is where the things really get heated with Sticky Wilds helping the treasure hunt and producing major jackpots!
Moneyfest, as the name suggests, is a celebration of wealth. The game presents players with a grand festival where every spin, every feature is a ticket to a world bursting with potential earnings of up to 4,250x. The abundance of bonus features will be enjoyed by anyone who spins Moneyfest reels! Instant cash prizes, free spins, and dynamic reels will help players climb up and reach the upper class status.
Fish & Cash is another underwater-themed gem by Popiplay. Here, players navigate through waters teeming with diverse aquatic life but also with great jackpot prizes. The 6×6 grid setup with Refilling reels and Wild Multiplier in Free Spins round, rewards the best fishermen with up to 10,200x! So, each spin is a fishing expedition where the catch can lead to a sea of riches.
Wild Wild Gold, a journey to the American Frontier where prospectors, outlaws, and fortune seekers rush for a golden bonanza. In this game, players spin the reels for a taste of the Wild West, a chance to strike gold and pocket 7,790x the bet. Players who are ready for the grand adventure on the slot reels, put your lucky boots on and start spinning Wild Wild Gold!
Popiplay has demonstrated its commitment to innovation, quality, and entertainment from the very first slot game. Each of the seven slots released this summer is a testament to the developer's prowess in creating games that are not just visually appealing but also rich in features and winning opportunities.
Gamers worldwide are invited to embark on these thrilling adventures, each promising a unique theme, innovative features, and the prospect of handsome rewards. Popiplay's releases are not just slot games; they are epic journeys waiting to be embarked upon with treasures waiting to be discovered, and above all, they encapsulate the epitome of online gaming entertainment.
As the gaming landscape continues to evolve, Popiplay remains at the forefront, defining the future of online slots and setting new benchmarks in gaming excellence. The summer of 2023 will be remembered not just for the sun's golden rays but for the golden opportunities these seven magnificent games have unveiled to the eager gaming world.